Hello Adventurers,
Welcome to the exhilarating world of Chromatic Souls.
Here's a guide to guilds for those of you starting out.
◆ Creating a Guild
Here are the easy steps to creating your own guild.
In the main screen, drag the screen to your right to be taken to the guild page.
Tap 'Create Guild' -> name your guild -> set policy -> select emblem.
Guild policy helps players to find a guild based on their preferences.
▲Drag towards left and right to navigate within the guild page.
※ Requirements for Creating a Guild
- Have Cleared 'The Chamber'
- Not joined to a guild
- Possesses 200,000 Gold
- Haven't created a guild within the last 3 days
Please note that your guild name cannot be changed in the future.
▲ Guild name cannot be modified once set.
◆ Joining a Guild
Anyone can join a guild! You can either search a guild or request through friend's info page.
*Guild Master and Officer can send guild invitations.
▲ To join a guild, you must either send a request or accept the invitation.
◆ Managing Guild
Guild Master can appoint an Officer who can help them out with the management. Officer has the authority to kick out guild members and declare a raid.

Features such as 'Appoint' and 'Kick Out' can be found under 'Guild Info – Manage'. These features are only permitted to Guild Master and Officer.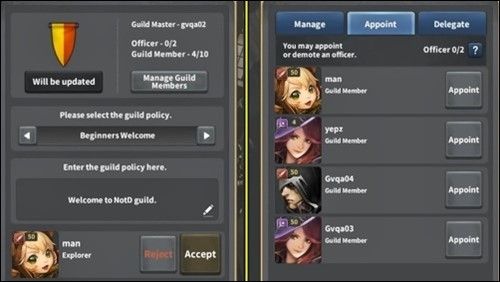 ▲ Guild Master and Officer can use 'Manage' features.
◆ Guild Chat
Take advantage of the 'Chat' feature that's open to all members to enjoy.
This feature can be used in multiple areas of the game such as in World Map, Shop and even during a battle. You can easily communicate with the members as well as share useful tips.
▲ Real-time chat screenshot
▲ Check your message everywhere!
◆ Guild Raid
Guild Raid is arguably the most exciting part about being in a guild.
Unlike monsters appearing in normal raids, guild raid monsters possess various tactics and resources.
Thus, when a Guild Master or Officer declares a raid, guild members must collaborate to fend off the enemy.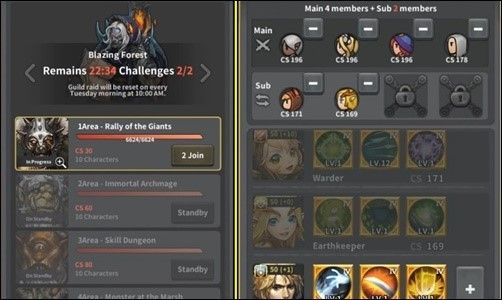 ▲ You can participate in battle once the raid is declared.
Stamina will not be consumed when you enter the raid. Be sure to bring 4 or more characters as it is required to enter the battle. Due to the CS limits per entry, it is important for the Guild Master and Officer to be aware of their remaining power beforehand.
Other than 4 main characters, you can bring along maximum of 4 alternate characters as a backup. You can swap characters during the battle. However, any character that has left the battle cannot rejoin.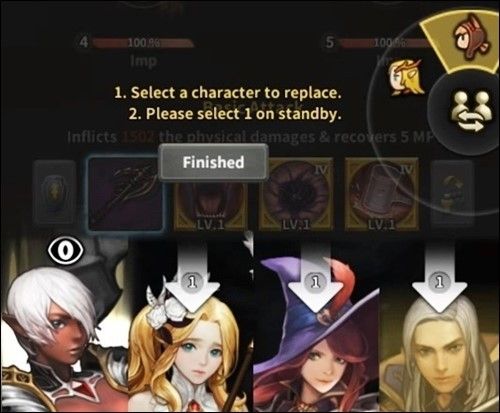 ▲ Switch characters! Maximize your strategic battle!
This guild raid will consist of 6 dungeon groups and each group holds 7 dungeons.
Keep in mind that only one boss can be selected at a time. Also, you must finish your current raid to declare a new raid. Clear the boss within a given time to receive special rewards.
If the monster is too strong, try the 'Forfeit' feature. You can begin a new raid, but will lose all your battle records for the failed raid.
Raids will reset every Tuesday at 5pm PST.
◆ Guild Ranking
Your guild will acquire Ranking Point (RP) when defeating a boss. The total RP will determine your guild's ranking. Each week, a 5% of RP will be reduced from the total RP.
Guild Ranking can be viewed under the Guild Ranking screen (shown below).
Reward distribution will be held on Tuesday at 5:00pm PST (biweekly).
▲ Reward distribution is held biweekly.
Hope this helps, adventurers.
- Chromatic Souls Team -